3rd Annual Baca Street Bash: Saturday, July 22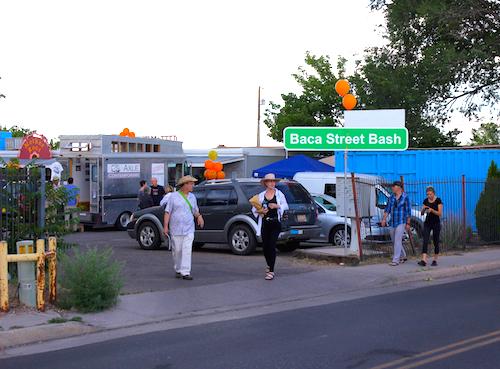 Who doesn't love a block party in the summer? The merchants and artists in the Baca Street neighborhood sure do, and invite you to join them for the Third Annual Baca Street Bash! This year, The Shiner's Club Band--led by Santa Fe favorite Westin McDowell--takes their brand of New Orleans jazz to the streets of Baca, Shoofly, and Flagman. Bring your dancing shoes – the band will be on the move! But wait, there's more: DJs, demonstrations, art exhibitions, special sales, and ice cream from Freezie Fresh are on the bill for Saturday, July 22, from 4 – 8 p.m. The fun starts at the intersection of Baca and Cerrillos; from there, it's an easy walk west to the participating establishments:
Gallery Ethnica, 301 Cerrillos Rd. Live music, 15% discount to celebrate our opening
counter culture cafe, 930 Baca St. Ask about the Bash specials!
Natural Stones, 930 Baca St. Free gemstone grab-bags
Art.i.fact. 930 Baca St. "Taking Back Orange" group exhibition, curated by Santa Fe Collective's Jennifer Joseph
DJ Prairie Dog, in front of Art.i.fact Spinnin' tunes, sellin' vinyl
Liquid Light Glass Studio and Gallery 926 Baca St., #3 Blown-glass demonstrations
Girasole Glass/Donna Nova Designs Julie Defeo Designs Linda Sweeney Glorieta Glassworks 926 Baca St., #5 Bead-making demonstrations
Gray Matter Art + Tools + Oddities 926 Baca St., #6 Opening reception for artist Will Fuqua
Axle Contemporary (mobile gallery in front of Gray Matter): SITE Santa Fe and Axle Contemporary present "Run Home Derby Store, a part of Retour des Cendres Vol. IV.
ElleWell, 933 Baca St., Suite C Open house, DJ, games & art
Anita Louise West Fine Art Studio 933 Baca St., Suite 1 Art opening & print sale
Molecule Design, 1226 Flagman Way Celebration of Italian design star Moroso
Show Pony - Gallery/Gotique (in front of Molecule) Representing 14 Local Artists - A little sweet! A little punk rock space on wheels!
Inga Hendrickson Photography & Letterpress Made 931 Shoofly St., Suite L Open studio, print & card sale
Opuntia Modern Tea Garden, 922 Shoofly St., Roving tea, snack samples
Celebrate summer and discover the Baca Street neighborhood – Santa Fe's destination for unique, funky, and fabulous!
Share this