Seriously Funny: The Works Of Rita Bard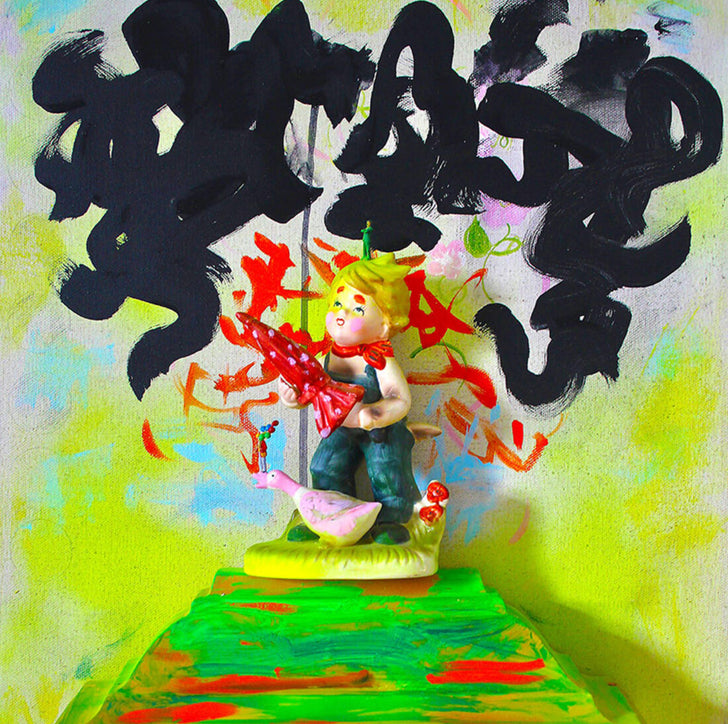 "Things are not always what they seem."
Santa Fe artist Rita Bard learned this dictum at an early age, growing up in a family "that was poor in resources but rich in exposure to art and culture." Rita's new work continues her dialogue with deconstructing the zeitgeist, utilizing found objects, paint, and photography to create a kaleidoscope of comical, honest, and tender vignettes. Meet Rita at her opening reception on Saturday, Sept. 28, from 4 – 7 p.m. at the ART.i.factory. The exhibition is presented by Curate Santa Fe.
Rita spent her childhood in Kentucky, where she was exposed to architecture and classical art.  She built a career as an architectural glass artist, and spent 20 years working for architectural art glass firms in New York and Kentucky. She loved the work, but craved a deeper relationship with fine art. Rita left glass work to pursue a BFA in printmaking at Maine College of Art.
Today, Rita avails herself of a sumptuous plethora of materials, techniques and technologies, incorporating her belief that art is both a mirror of one's lived experience and a portrait of the heart's longing for understanding. Her creative expression interfaces digital with the analogue to create a liminal space that serves as an opening where new questions, myths, narratives and iconographies can come into being.
Rita has shown at the Center for Contemporary Art (CCA), Box Gallery, Eight Modern, Launch Projects in Santa Fe and many other galleries throughout the United States. She founded freeform art space in 2014 as part of her community art practice: freeform serves as a venue for guest curators and artists to show "commercially risky", challenging and/or underappreciated artists' work.
Share this